Luca's Culinary Journey: Three Generations of Italian Family Cooking
Luca Ciano's food journey has taken him from his native Italy to live and work around the world, but his earliest memory of cooking was as a young boy in the kitchen with his grandma Nonna Domenica. Luca's family culture revolves around food and shared passion for fresh produce, cooking, seasonality and tradition.
In Luca's Culinary Journey he shares his own favourite recipes, including quick and easy-to-prepare dishes using his own high-end product range, as well as the traditional northern Italian family specialties of his mother and grandmother, such as gnocchi, risotto, polenta and ragu.
Born and raised in the culinary capital of Milan, Italy. It was destiny that Luca inherited his passion for food and culinary exploration in his homeland. Luca's interest and passion for food commenced with my Mum and Nonna when he was just eight years old, taking his first few steps with them in the direction of becoming a chef.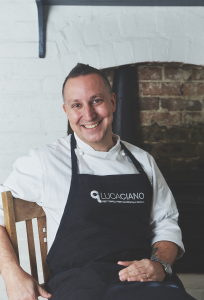 One of today's most successful chefs and food consultants, this is Luca's journey from Milan, Italy, to Australia and beyond, and how his food journey has made him one of the most sought-after chefs.
Luca's established career includes two famous Michelin-starred restaurants, and he has been awarded a medal for Senior Pasta Class, a Merit Award in the Nestle' Master Chef Grand Prix, and the 'Les Toque Blanches D'Honneur' from the APCI. Luca also developed the iconic 'Casa Barilla' global cooking school and was a regular contributor to Australian BBC and Good Food Magazine. Luca has since started consulting restaurants, hotels, magazines and Italian brands in Australia with several appearances on radio and daytime television.
Luca's Culinary Journey, Three Generations of Italian Family Cooking – by Luca Ciano, New Holland Publishers RRP $49.99 available from all good book retailers or online www.newhollandpublishers.com.