The skincare social enterprise Unlabelled lands an exclusive national deal with Coles Group ahead of Sydney WorldPride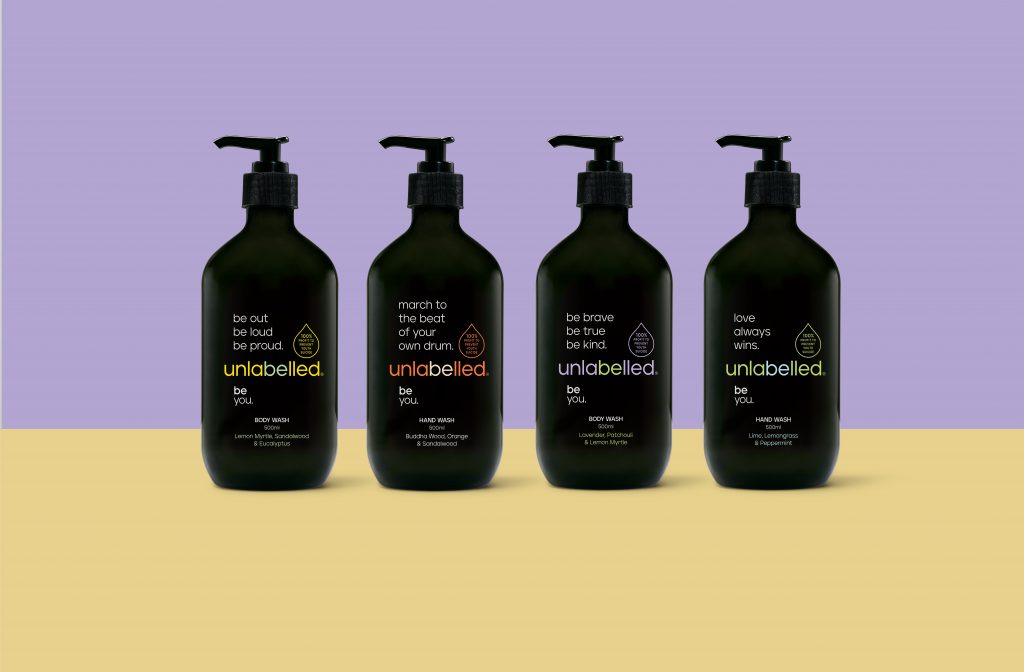 The loud and proud range of Unlabelled skincare products just got prouder with the news that Coles will stock its selected range across stores nationally in time for Sydney WorldPride 2023. Over the next ten days starting from today, three handwashes, three body wash, and two body bar products will start to hit shelves around Australia with exclusive packaging featuring new splashes of colour and Pride messaging. 
Unlabelled is a social enterprise designed by award-winning skincare professionals Anthony McDonough and Chris Glebatsas, inspired by their personal experiences to help encourage young Australians just to be themselves. Each product features fun, positive messages on its sleek eco-friendly packaging and 100% of its profits are donated towards charities deeply connected to tackling youth suicide in Australia. The funds support the lifesaving youth work of LGBTQIA+ charity QLife as well as the Black Dog Institute, Headspace and Kids Helpline.
"It's incredible to see Unlabelled products going into all Coles stores in less than a year since launching the brand. The Coles team not only loved that our products are natural, made with Tasmanian Sea Kelp Extract (marine collagen), have no nasty chemicals and are suitable for sensitive skin; but they also really connected with our purpose, to put an end to youth suicide," says Chris Glebatsas. 
After closely collaborating with the Coles team around their exclusive range and packaging, Unlabelled products will proudly wear new splashes of colour and positive messages as a nod to Pride. New taglines include the joyous, "love always wins," to the independent, "march to the beat of your own drum", to the bold, "be out, be loud, be proud", and the inclusive, "be brave, be true, be kind". 
The founders of Unlabelled are both proud members of the LGBTQIA+ community and know all too well how damaging labels can be from their own experiences. That's why they believe so passionately about the Unlabelled brand and the work they are doing to end the stigma of living within a box defined by labels. 
Chris grew up in a conservative religious family and community in Melbourne. After raising questions about his sexuality with his family at the age of 13, he was sent to a religious doctor who chose controversial conversion therapy techniques, resulting in him attempting to "pray the gay away", which added to Chris's confusion about his sexuality and feelings. After moving overseas, exploring his sexuality further and surviving a life-threatening illness, he returned to Australia, where he met Anthony, fell in love and came out to his family. 
Growing up as part of a large religious family, Anthony went down a similar path to his siblings without really thinking about his sexuality. He married young, started a family and lived in Europe with a successful career. After moving back to Australia, his relationship broke down, and he began to explore other aspects of his sexuality.  
At an early stage of coming out, Anthony told a friend that he thought he might be bisexual. The friend laughed it off, saying there was no such thing, which is a common misconception within the Gay community. It wasn't until after he met  Chris that Anthony felt he could have a real relationship with another man and truly be his authentic self.  
Through their personal experiences with being labelled, along with those of Anthony's biological daughter Grace and her school-age friends, inspired the idea behind the brand. Unlabelled looks to end the stigma and the need to conform to labels and the damaging pressure it can put on young people during the most vulnerable stage of their life. They want all young people to be able to just be themselves, which is why they have the tagline "be unlabelled, be you".  
Anthony and Chris attended a Pride event recently and gave a presentation about Unlabelled and what it is trying to achieve as a social enterprise. "We had some amazing mums of transgender kids come up to us afterwards and share how much they absolutely loved the ethos behind our brand. If we can help kids feel like they fit in and are accepted for being who they are, then what we are doing is making a difference.  That's why we do what we do," says Anthony. 
Coles Group is the Presenting Partner of Sydney WorldPride 2023 and the Sydney Gay and Lesbian Mardi Gras for the next three years. Pride month is an annual time for the LGBTQIA+ communities to celebrate diversity in an inclusive way. Sydney WorldPride 2023 is the first time the WorldPride event has been held in the Southern Hemisphere. It runs for 17 days, starting from 17 February to 5 March 2023, and is expected to attract more than half a million people across its 300 official and registered community Pride events. 
The Coles range of Unlabelled products comes in many fabulous fragrances, including; handwashes with Geranium Mandarin & Bergamot, Lime Lemongrass & Peppermint, Buddha Wood Orange & Sandalwood, body washes with Lemon Myrtle Sandalwood & Eucalyptus, Rosemary Cedarwood & Geranium and Lavender Patchouli & Lemon Myrtle. Body bar fragrances include Orange Mandarin & Collagen and Lemongrass, Lemon Myrtle & Collagen.
The exclusive range of Unlabelled products is available at all Coles stores nationally, while the complete Unlabelled range is available online at unlabelled.org.au. Unlabelled hand wash and body wash are $15 RRP each, while body bars are just $7 RRP per bar.