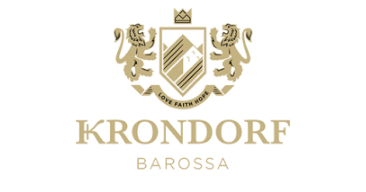 Discover the Krondorf Wines 2023 Collection
This annual vintage release of limited wines includes the new Icon, Krondorf King's Mantle Shiraz 2019; hand-selected and crafted with a traditional minimalist winemaking approach.
The Krondorf legacy continues with a selected range of opulent wines that reflect the best of the Barossa Valley through premium vineyards, selected old vines and unique sites. This annual vintage release contains five extraordinary wines to suit serious wine collectors and enthusiasts alike. Four of the wines are from the highly anticipated 2021 vintage, which is recognised as an exceptional Barossa vintage.
Krondorf, which means 'crown village' in German, was a village founded in the Barossa Valley in 1847 by Silesian families who were seeking a better life. They planted vineyards and grew a range of produce from the rich, fertile soil of their new land. When the South Australian wine industry began to grow, Krondorf village was one of the most important settlements in the valley and helped to establish the Barossa story.
"I like to take a minimalistic approach to things," says Nick Badrice, Head Winemaker at Krondorf Wines. "It's about allowing the wines to express themselves and reflect the sites on which they're grown. The focus is on sourcing and growing the best-quality fruit, which is a key part of Krondorf Wines' philosophy".
Krondorf continues to build its legacy by enhancing its old vine resources and through its approach to small-batch winemaking. The annual Krondorf Wines Collection represents a limited range of wines that best captures the character of the Barossa Valley and delivers an experience that everyone can appreciate.
Krondorf Icon 2019 King's Mantle Shiraz "Our preeminent wine and new Icon, the Krondorf King's Mantle Shiraz 2019, is the pinnacle of our craft. We search the length and breadth of the Barossa to identify the finest and most expressive fruit of the vintage," says Badrice.
"As a winemaker, I'm looking for fruit that brings a perfect balance of classical and contemporary Barossa excellence. We then select a single vineyard parcel of ultra-premium fruit by hand and craft it with a traditional winemaking approach where minimalism is key."
Produced from 25-year-old vineyards in the northern Barossa and gently pressed into French oak barrels for 18 months, this crowning selection of the vintage is hand-selected to gather the finest quality of black forest fruits. Each barrel is individually tasted and classified, with only the very best barrels displaying true Barossan character being selected for the final blend. Krondorf Icon 2019 King's Mantle Shiraz is concentrated with dark chocolate and spice aromas offering subtlety of power and a long powerful finish. Described as 'an iron first in a velvet glove', The King's Mantle is worthy of a prized position in any discerning wine drinker's collection.
Krondorf 2021 Stone Altar Shiraz Amidst the iconic Barossa Ranges, the Silesian settlers built a stone altar as a sanctuary to practise their prayer. This complex wine is a tribute to the settlers' strength and resilience as they began life in their new homeland. It's carefully crafted from a very low-yielding, exceptional single vineyard site in the Barossa Valley. The old vine fruit has been picked at optimum ripeness to produce a wine with richness, depth, and concentration and matured carefully in French oak hogsheads for 18 months. The Krondorf 2021 Stone Altar Shiraz is blended with dark cherry and plum, nuances of cinnamon spice and dark chocolate integrating with supple and velvety tannins to create a structure of sheer power and length.
Krondorf 2021 Stone Altar Grenache Another wine in this collection that exemplifies the Silesian people's resourcefulness and determination, the Krondorf 2021 Stone Altar Grenache is made from the best parcels of grenache from the vintage, hailing from two sub-regions of the Barossa Valley; Light Pass and Greenock, this old vine Grenache features expressive aromas of Turkish delight, dark cherry and raspberry, with notes of liquorice and spice.
Krondorf 2021 Kingship Cabernet Sauvignon Krondorf Wines has also just launched a Cabernet Sauvignon, sourced from a vineyard neighbouring what used to be the Tanunda Rifle Club. The club began in 1856 and ran a renowned tournament promoting the skills of bearing arms and marksmanship until 1940. The warming spice concentrated with dark berry notes and silky fine-length flavour epitomises the thrill of Tanunda's annual Kingship competition, a highly prized event historically held in South Australia. The best riflemen vied for the title of the 'King' marksman of the year. Krondorf 2021 Kingship Cabernet Sauvignon bestows a classical pure fruit definition, dark berry cassis aromas and leafy sage notes with hints of subtle oak profile to complement its taste.
Krondorf 2021 Old Salem Barossa Shiraz pays homage to the Old Salem Church destroyed in the 1946 floods but lives on in the memorial stone laid in our vineyard and the grapes harvested from it. This wine is blended with carefully selected premium grapes from other longstanding Barossa family growers. New French and American oak are added to balance the fruit's intensity, mixed with red and blue fruit aromas and wild blackberry, blackcurrant, cinnamon and anise.
The 2023 Krondorf Wines Collection is available at select BWS, Dan Murphy's and Krondorf Cellar Door and includes:
● Krondorf Icon 2019 King's Mantle Shiraz – RRP $149.99
● Krondorf 2021 Kingship Cabernet Sauvignon – RRP $37.99
● Krondorf 2021 Old Salem Barossa Shiraz – RRP $37.99
● Krondorf 2021 Stone Altar Shiraz – RRP $64.99
● Krondorf 2021 Stone Altar Grenache – RRP $64.99