Pullman Sydney Penrith and Western Sydney Conference Centre open, awakening a sense of wonder in Western Sydney
Introducing Penrith's first five-star hotel, with an advanced in-room sleep therapy service.
A new state-of-the-art conference centre will offer the latest staging, AV and technology capabilities.
Marcel to offer refined dining, exceptional food, cocktails and curated wines.
The elite fitness and wellness centre will redefine expectations for a hotel gym.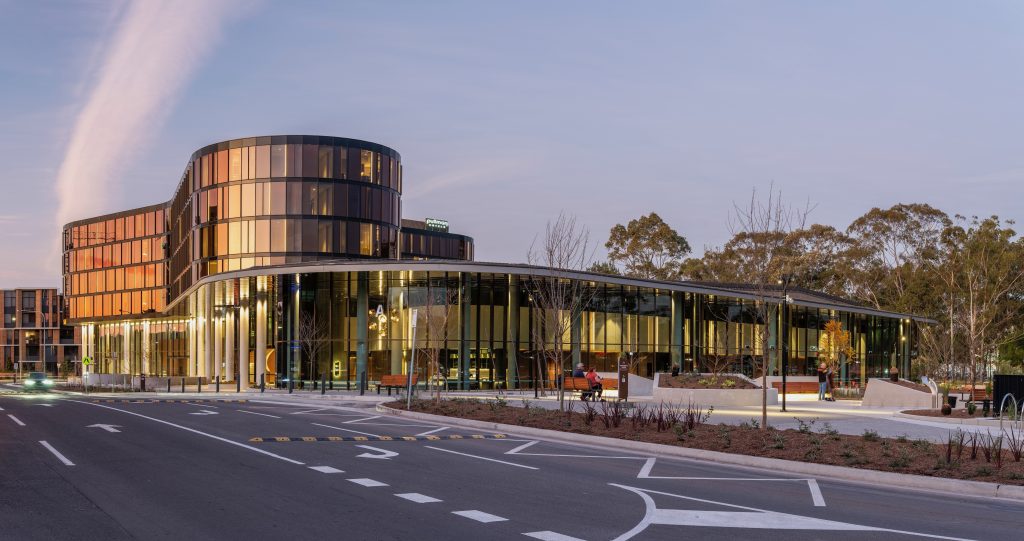 Introducing Penrith's first five-star hotel, with an advanced in-room sleep therapy service.
A new state-of-the-art conference centre will offer the latest staging, AV and technology capabilities.
Marcel to offer refined dining, exceptional food, cocktails and curated wines.
The elite fitness and wellness centre will redefine expectations for a hotel gym.
(August 2023) – A significant milestone for Western Sydney will be ignited with the official opening of the Pullman Sydney Penrith and Western Sydney Conference Centre (WSCC) on Friday, 11 August 2023. The new $110m precinct is set to awaken wonder in the West, combining business, entertainment and leisure in one exquisite, world-class destination.
Featuring Penrith's first 5-star hotel, an unparalleled conference and events space, a revolutionary wellness and fitness centre, and the upscale European-inspired Marcel Bar and Bistro with its sister lobby bar, Tori.
With a new international airport on the way for Western Sydney and billions of dollars in infrastructure projects already announced, the area is Sydney's strongest growth story. The state-of-the-art precinct offers travellers and delegates a central base for exploring Sydney, whether heading to the picturesque Blue Mountains region, the CBD, or even a day trip to the coast.
Architecture and design studio, Turner, delivered a striking design that pays homage to the local region. The fluid, ribbon-like shape of the building is inspired by the nearby Nepean River and just as light bounces and reflects along the river's surface, polished metal ceiling panels across the underside of the building's roof create a similar shimmering effect.
With such importance on creating a sense of place and evoking a feeling of unexpected discovery, extensive landscaping throughout the area helps to connect and bring guests closer to nature. Thoughtfully designed by landscape architecture firm, Oculus, it follows suit of the curvilinear theme of the building. Planting is predominantly native, with over 75 trees and 8,000 plants, which are all maintained with sustainable watering practices.
A First Nations sculpture tells the story of the river's importance as a food source and explores local fishing techniques used by the Dharug people. The Warami (pronounced Wara-Me) Community Centre is also included in the precinct, engaging with the locals of Penrith.
Executive Chef Colin Chun, a pioneering and visionary chef with extensive experience in leading international hotel brands and restaurants, will apply his expertise to bring 'the best of the West'. He will oversee the food vision for the entire precinct, including Pullman Sydney Penrith, Marcel, Tori and the Western Sydney Conference Centre.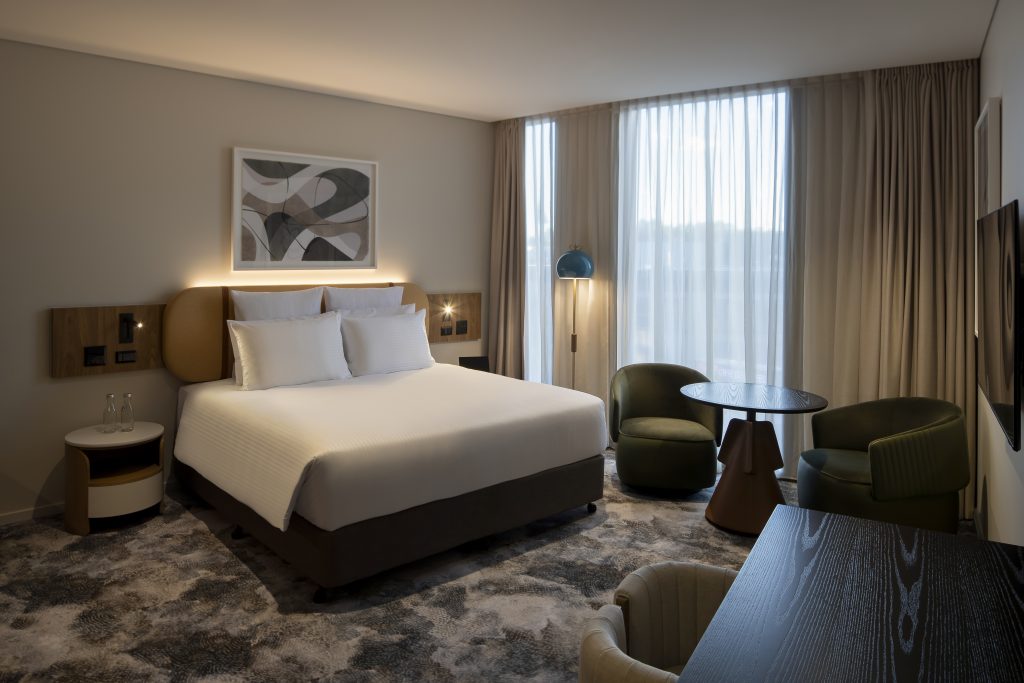 PULLMAN SYDNEY PENRITH
Pullman Sydney Penrith, part of the world-leading hospitality group, Accor, offers an attentive five-star experience that is considered at each and every touch point. This level of excellence is evident throughout the 153 rooms available, its unparalleled service, and its innovative design and technology.
Accor Pacific Chief Executive Officer, Sarah Derry, says: "We are thrilled to announce the opening of Pullman Sydney Penrith. This stunning hotel is a magnificent addition to our portfolio and showcases the essence of Pullman's brand promise, offering an innovative and elevated experience combining comfort, and intuitive service."
"With its prime location in Penrith, guests can expect a unique experience that combines the tranquillity of the Blue Mountains with the vibrant energy of Sydney. We are confident that Pullman Sydney Penrith will elevate the hospitality landscape in the region and provide an unforgettable stay for both business and leisure travellers."
At every turn, the hotel has been designed to entice feelings of curiosity and surprise. The lobby lounge features a striking sandstone wall that is punctuated with commissioned paintings by a range of acclaimed artists, including award-winning Aboriginal Australian artist Gloria Petyarre. The sense of discovery continues at lift lobby lounges on every floor featuring unmistakable Australian landscape pieces by Archibald-prize-winning artist John Olsen AO OBE. These hybrid zones feature custom furniture that supports mixed use of the space, as a place to study, enjoy after-dinner cocktails or read a book.
The hotel features 24 Junior Suites, 96 Superior Rooms and 25 Deluxe Rooms of various configurations and 8 Accessible Superior Rooms with a King Bed. Junior Suites are 38sqm corner rooms that come with floor-to-ceiling windows, a full-sized fridge, microwave and dining table. In your suite, you'll also find a hair straightener, clothes steamer, plush robes and
slippers.
All rooms offer impeccable natural skincare amenities from Australian-born Hunter Lab, Nespresso coffee machines and an array of local minibar inclusions; Manly Spirits, Nick O'Leary Wines, Belle Fleur Chocolates and Strangelove Soda. For entertainment, Foxtel Business IQ is available and comes with a library of over 1,000 free movies.
All rooms are equipped with smart integrated controls and a digital compendium. One of the first of its kind in Australia, guests can access a bespoke Sleep Therapy Menu on their in-room tablet that connects them with a variety of sleep services. At a touch of a button, guests can order everything from face and eye masks to aromatherapy pillow sprays, soothing teas, and an extensive pillow menu. There are also pre-programmed selections of background sounds, colours and room lighting settings to choose from to help you sleep or wake up.
"We believe in giving people a great night's sleep so they feel refreshed, recharged and ready for whatever their day has in store for them. Our unique sleep therapy services offer a way for our guests to discover their best sleep yet," says Glen Erickson, General Manager of the Pullman Sydney Penrith and Western Sydney Conference Centre.
The elite fitness and wellness centre, developed in league with the High-Performance team from the Penrith Panthers, is bound to challenge the everyday norms of any hotel gym. Designed for professional athletes at the highest level, it's equipped with advanced technology, featuring Watt bikes, Woodway treadmills, Assault bikes, SkiErgs, squat racks, an Olympic lifting platform, resistance machines, and weights which range up to 30kgs. Warm and cold sweat towels are available for guests during their workout, and for respite and recovery, there's also a custom, in-built 10-person sauna, helping visitors detoxify and destress, while also promising a great night's sleep.
Throughout your stay, you will be provided with glass bottles in your room and will find both still and sparkling water stations available throughout the hotel and restaurant. The sustainably-minded hotel is completely free of single-use plastics, and an emphasis is placed on selecting local providers where possible and ethically sourcing all produce. Charging stations for electric vehicles are also available in the hotel car park.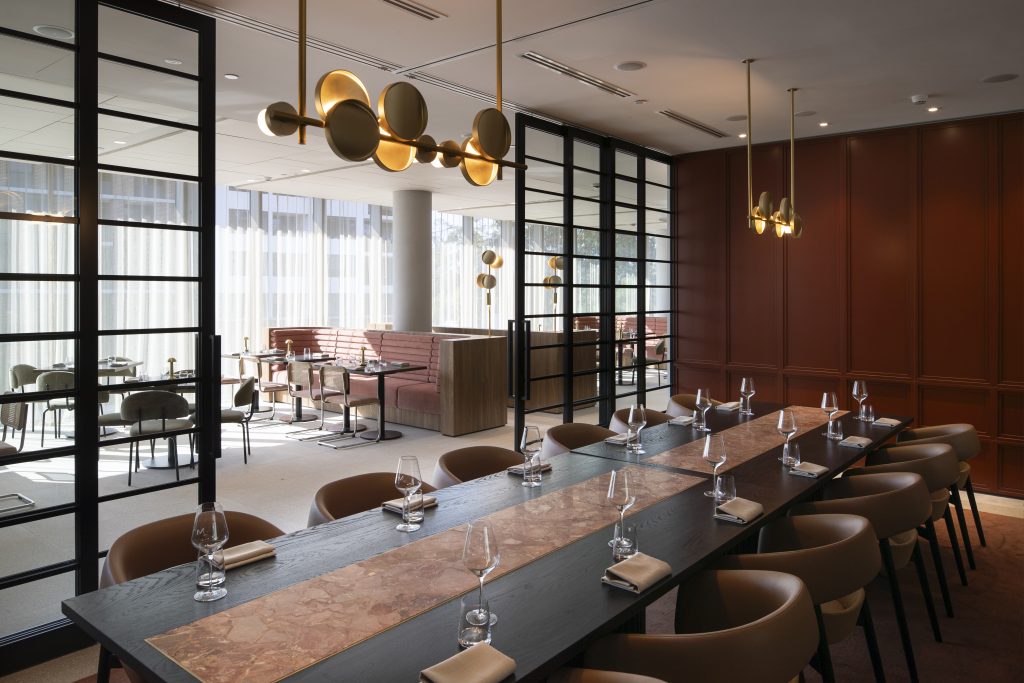 SOPHISTICATED FOOD & DINING
Bringing a new level of excellence to Western Sydney's dining scene is Marcel Bar and Bistro and lobby bar Tori. On the first floor, atop a sweeping central staircase, Marcel makes an immediate impression with a Bauhaus-inspired design in subdued primary colours and sleek shapes. The modern European restaurant offers a refined but welcoming atmosphere with elegant dishes that celebrate the area's abundant produce. Beside it, the bar boasts a stunning open wine cellar, where guests can browse, select and chat with sommeliers.
Tori, on the ground floor, is a contemporary take on a traditional lobby bar, offering all-day light bites, brews from local coffee bean roasters and pastries for breakfast, before morphing to a live music and evening drinks spot with a Blue Mountains backdrop.
The name for both venues pays homage to the late Marcel Breuer, a renowned architect whose only Australian building is heritage-listed and located in Penrith. Breuer collaborated with his former chief assistant and Australia's foremost architect, Harry Seidler on the Torin factory building which opened in 1976. The pair also worked together on the design for the Australian Embassy in Paris which opened the following year.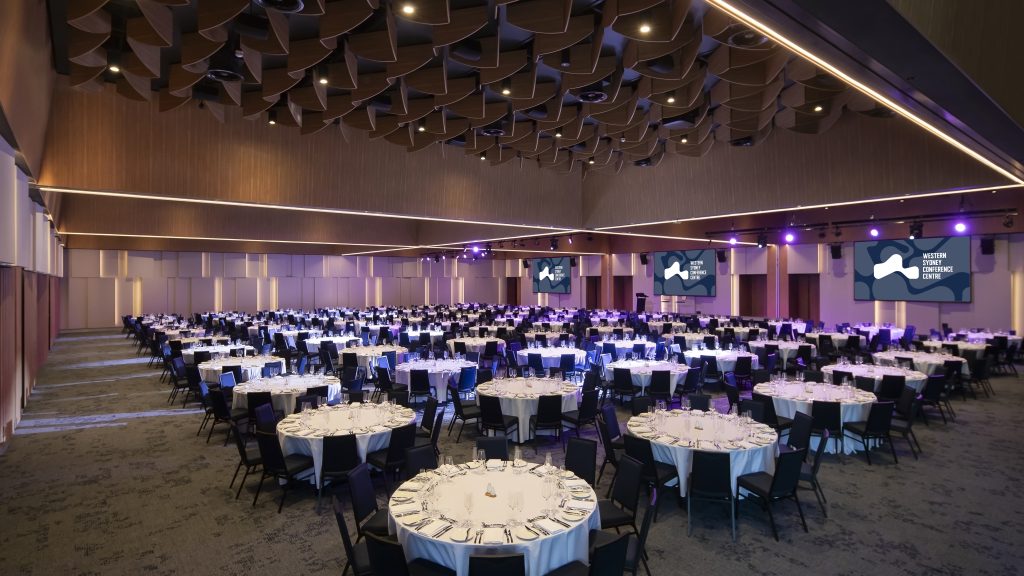 STATE-OF-THE-ART WESTERN SYDNEY CONFERENCE CENTRE
With a captivating design both inside and out, state-of-the-art technology, and inspiring culinary options from Executive Chef Colin Chun, the adjoining WSCC is an organiser's dream for conferences, events, formal dinners and wedding celebrations.
The 1,000-seat capacity, 1,250sqm conference centre comprises flexible spaces that can change quickly with technical ease. Thanks to its elite in-house and all-wireless audiovisual technology and smart wall mechanics, it can transition from a mixed rooms layout to a single-room formal dinner, in less than an hour. The inspiring event space features a column-free design and boasts 6.8 metre high ceilings, complete with four tailored room configurations, including Conference, Banquet, Cocktail and Expos, which can fit up to 80 booths.
A terrace adjoining the function and pre-function spaces creates a spill-over space above the central landscape area that can be utilised for pre-event cocktails. The central lawn is an inviting escape for relaxation, recreation and pre-event activities while immersed in nature. There is also a lobby lounge and bar serving innovative cocktails and barista coffee made from
Allpress beans.
The arrival of Penrith's first 5-star hotel with the Pullman Sydney Penrith, exceptional new food and dining options, and a world-class events destination will play a pivotal role in enhancing the city's reputation, further fueling the anticipated transformation of Western Sydney.
About WSCC
The Western Sydney Conference Centre (WSCC) is an innovative state-of-the-art multi-functional conference, event and exhibition venue that delivers limitless possibilities. Designed to create the most memorable experiences, this amazing destination centre is ideally located in the heart of Penrith. With over 1,250sqm of flexible space and a capacity of 1,000 patrons, Western Sydney Conference Centre sits within a region that has evolved as an aspirational business and lifestyle hub. Exuding dynamism, transformation and innovation, this world-class venue embraces originality through flexibility and showcases Western Sydney as a vibrant lifestyle destination deserving of global recognition.
westernsydneyconferencecentre.com.au
About Pullman
Pullman Hotels & Resorts sets a new tempo in global travel and living, delivering an inspiring, energizing and enriching experience to new entrepreneurs. Pullman welcomes guests with the space they need to focus, work and play. Forward-thinking, hyper-connected and with a passion for art and fitness, Pullman retains the adventurous spirit and open-minded ambition
that drove it to become a pioneering travel brand over 150 years ago. Today, Pullman features more than 140 properties in vibrant and cosmopolitan destinations around the world, including flagship properties such as Pullman Paris Bercy, Pullman Suzhou Zhonghui in Greater China and Pullman Maldives Maamutaa. Pullman is part of Accor, a world leading hospitality group counting over 5,400 properties throughout more than 110 countries, and a participating brand in ALL – Accor Live Limitless – a lifestyle loyalty program providing access to a wide variety of rewards, services and experiences.
pullman.accor.com | all.accor.com | group.accor.com
About Accor
Accor is a world leading hospitality group offering experiences across more than 110 countries in 5 400 properties, 10 000 food & beverage venues, wellness facilities or flexible workspaces. The Group has one of the industry's most diverse hospitality ecosystems, encompassing more than 40 hotel brands from luxury to economy, as well as Lifestyle with Ennismore. Accor is committed to taking positive action in terms of business ethics & integrity, responsible tourism, sustainable development, community outreach, and diversity & inclusion. Founded in 1967, Accor SA is headquartered in France and publicly listed on Euronext Paris (ISIN code: FR0000120404) and on the OTC Market (Ticker: ACCYY) in the United States. For more information, please visit www.group.accor.com or follow us on Twitter, Facebook, LinkedIn, Instagram and TikTok