Go Platinum for Your Beauty Sleep: Nutrimetics Launches Ultra Care+ Platinum Night Rejuvenation Oil for Visibly Stronger and More Supple Skin
Sydney, AUSTRALIA – Erase today's damage tonight by going Platinum, and naturally wake up
with firmer, plumper and smoother skin as soon as tomorrow. Ultra Care+ Platinum Night
Rejuvenation Oil with Bio Collagen Complex is a high-performing product from the Nutrimetics
Beauty Lab that includes premium, natural ingredients. This advanced facial oil is formulated to
stimulate optimal repair and boost collagen production, resulting in plump and glowing skin.
With hectic daily schedules, whether it be long hours in the office, or the sprint to the school pickup, each day, our faces tell a thousand tales of the busy lives we lead. But in the spirit of "getting it all done," this can lead to unnecessary exposure to the sun and pollution, combined with potentially unhealthy lifestyle choices and the natural ageing process – means your skin and beauty sleep is now more important than ever.
The advanced facial oil is suitable for all skin types, including sensitive or oily skin, and has been
specifically designed to cater to individuals with busy schedules. During the night, the oil gets to
work, stimulating skin repair and rejuvenation and supporting and re-activating cellular activity, so you wake up ready to face the day with hydrated, visibly stronger and more radiant skin.
The Platinum Night Rejuvenation Facial Oil is formulated from natural origins with potent
regenerating active ingredients, including the wrinkle-smoothing potential of Bakuchiol, a natural alternative to Retinol, ideal for those having experienced side effects from Retinol or Retinoids in the past. Bakuchiol, native to India and Sri Lanka, can also assist in fading dark spots, age spots, sun spots and hyperpigmentation.
Using a blend of plant extracts, including Acmella and White Lupin extract for targeting wrinkles and strengthening the skin, marine actives Chlorella extract and Micro-algae extract, the oil helps diminish wrinkles and skin redness. The formulation is topped off with a blend of six oils; macadamia nut oil, apricot kernel oil, jojoba oil, rosehip oil, sweet almond oil and vitamin E, providing deep nourishment.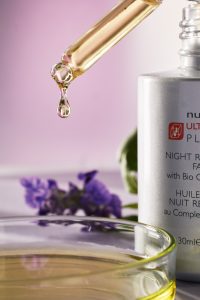 Apply 3-4 drops at night after cleansing and toning and massage evenly into the face and neck. It can also be used after serum or before your night cream.

With a clean beauty ethos, Nutrimetics has created a product that is cruelty-free, vegan, vegetarian, and free of sulfates, parabens, phthalates, gluten, and soy.

The Ultra Care+ Platinum Night Rejuvenation Facial Oil RRP is $104 (30ml).