SOFI refreshes the classic spritz with their new Aperitivo range
Boasting local Aussie and all-natural ingredients, the new SOFI Aperitivo range is redefining the classic spritz with a harmonious marriage of Aussie flavours and Italian tradition.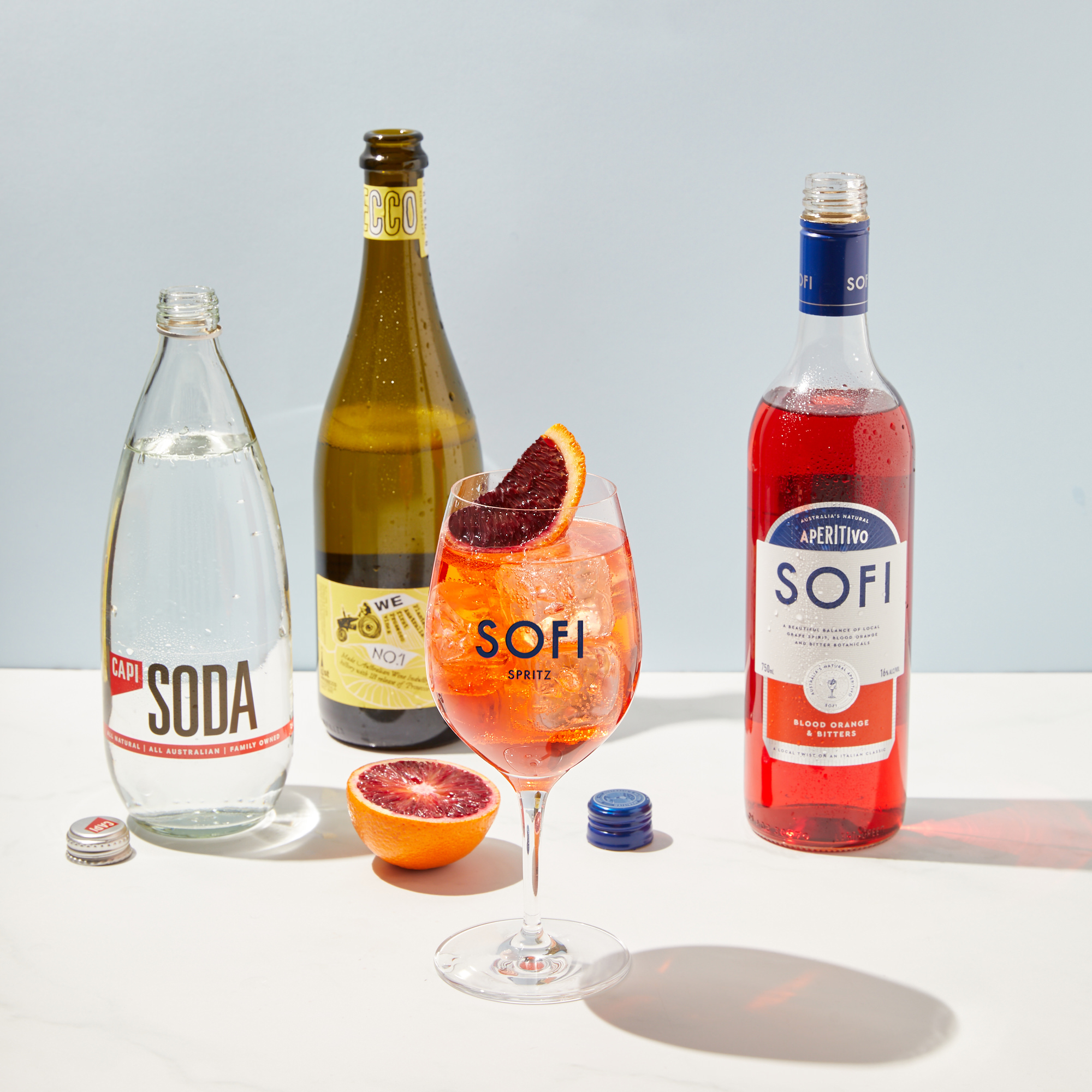 SOFI Founder Tom Maclean shook up the drinks market with SOFI's pre-batched spritz cocktails, selling 3 million serves each year (a SOFI every 10 seconds) and now is inspiring Aussies to SOFI 'their way' with the launch of SOFI Aperitivo.
Each distinct flavour profile is inspired by their much-loved premixed range, but now in a 16% ABV spirit (750 ml) format, classically served with Prosecco, soda and a wedge of fresh citrus.
Sure to be the summer drink of choice, SOFI's Blood Orange and Bitters, inspired by Italy's most popular cocktail, The Veneto Spritz, is a beautiful balance of local grape spirit, blood orange and bitter botanical extracts.

Limited edition recipes include Pink Grapefruit and Lavender Aperitivo which is inspired by The Pompelmo cocktail and the latest Wild Berries and Pomegranate Aperitivo, inspired by the Tintoretto. A refreshing blend of wild summer berries with the crispness of pomegranate proves to be the ultimate sundowner tipple to sip back and relax on balmy afternoons. Additional limited editions are still to come.
Ahead of their first summer in the Aperitivo category, SOFI has already taken out a silver medal at the Melbourne International Spirits Competition 2021.

SOFI has also teamed up with a group of like-minded Australian brands to create a range of Spritz Kits, the ultimate companion for an effortless and stylish outdoor gathering. "Being a local start-up, it was important for us to work with other Aussie brands to create these Spritz Kits," says Tom Maclean.
The Spritz Kit includes SOFI Aperitivo's Blood Orange and Bitters (750ml) Australia's natural Aperitivo; Dal Zotto (750ml) who planted Australia's first Prosecco vines making Australia's Original
Prosecco; CAPI Pure Australian Soda Water (750ml), purified, pH neutral and mixes well with others; Sunnylife esky with a bamboo lid that flips to reveal a handy chopping board and drinks holder; and a SOFI picnic bag.
The SOFI Spritz Kits are available online at sofispritz.com and SOFI Aperitivo is sold nationally at Dan Murphy's, Vintage Cellars and over 500 BWS stores.