Wild Fathers: What Wild Animal Dads Teach Us About Fatherhood
We humans have a great capacity to learn from other species, so it's only right that we compare ourselves with them every once in a while. Looking at how they do the stuff we do is always interesting and can perhaps help us gain a greater understanding of the role of fatherhood. Wild Fathers takes a close look at animal dads in the natural world and what that may say about fatherhood in humans, giving insights into truly fascinating paternal characteristics found in wild creatures including seahorses, frogs, penguins, primates, lions, wolves, seals and many more.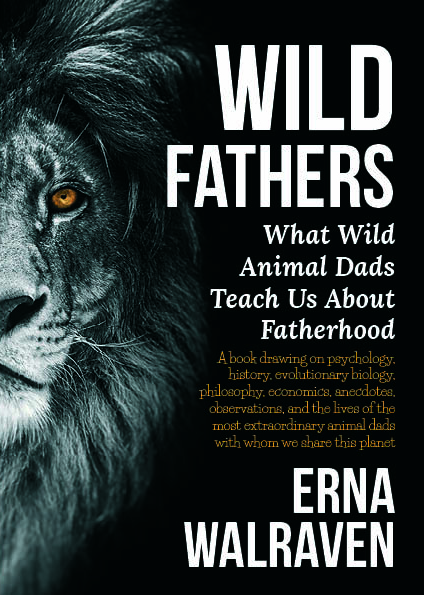 Starting with the myriad ways becoming a father, including different courtship patterns and mating systems, the book explores both the familiar and the bizarre. Once fatherhood is achieved many animal societies have evolved a major role for dads. The importance of pair bonding, fidelity and male role models are examined with a wink to our own natural rituals and societal norms. The planet is full of magnificent animals, some of which make good fathers who are remarkably committed dedicating a huge part of their lives to raising their progeny. These fathers show ways of parenting that speak to us humans.
ABOUT ERNA
For animal lovers everywhere, fathers, fathers-to-be, mothers, sons and daughters, this is a book that could change perceptions of the role of fatherhood in nature and in our human world. Erna Walraven was born in the Netherlands and moved to Australia via Spain in the 1980s. She has worked in zoos for more than three decades, including as Senior Curator at Taronga Zoo in Sydney, Australia, for 20 years, where she was responsible for the scientific management of 400 species, including genetics, taxonomy, behaviour, welfare, interpretation and research. She was also a consultant to other zoos on animal husbandry, welfare and other matters. 
Wild Fathers, What Wild Animal Dads Teach Us About Fatherhood – by Erna Walraven, New Holland Publishers RRP $32.99 available from all good book retailers or online
www.newhollandpublishers.com.